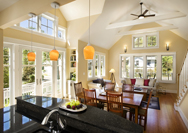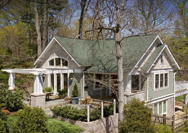 1. PRELIMINARY CONSULTATION
As architects, our first priority is assuring a successful project. This process begins before you are formally a client, with a comprehensive in-home consultation. We discuss your project goals, assess feasibility and potential constraints, review design approaches, and help estimate a rough budget for your project. Quality architecture doesn't start at a drafting table. It starts with you at your dining room table.
2. EXISTING CONDITIONS / SITE ANALYSIS
Memorable architectural experiences are often established by precise physical relationships. Sublime details can be rendered mediocre and forgettable by haphazard misalignments and missed spatial opportunities. For this reason, our first order of business is to gather information about the site that is relevant to the scope of your project. This process includes measuring and producing scaled drawings of the existing building, recording site conditions, and studying zoning limitations that could impact design. Intelligent design starts with quality intelligence.
3. SCHEMATIC DESIGN
An effective design process is both iterative and interactive; good decisions are the result of good alternatives. In that spirit we will present you with a range of possibilities and work with you to develop them into a singular design concept for your home. Schematic design begins with conceptual diagrams created to solicit your feedback, which leads to more refined drawings, ultimately creating an exciting design that meets your needs. Views, materials, furnishings and budget are all considered throughout the process. The final result is a schematic set of scaled drawings and outline specifications which area used to obtain preliminary cost estimates from builders.
4. DESIGN DEVELOPMENT / CONSTRUCTION DOCUMENTS
Communication is the lifeblood of any healthy relationship. In construction, good communication starts and ends with a thorough set of construction documents. After arriving at a concept that is right for you, we begin the work developing the schematic design into buildable working drawings. Sketches are refined into a more detailed set of plans, elevations, sections, details, and contract-quality specifications. We work with engineers and consultants appropriate to the size and complexity of your project. A thorough set of construction documents will lead to more accurate final bids, a more efficient permit review process and better protection against surprises during construction.
5. BIDDING AND PERMITTING
The completed construction document package will be used to obtain a building permit, solicit final bids, and form the basis of an agreement with the selected builder. Most projects are reviewed by the local county or city jurisdiction, though some will require additional reviews by historic review boards or municipalities. We will identify the permit requirements for the project and navigate the application and review process. Once bids are received and a builder is selected, a construction contract is drafted and executed and arrangements are made to begin construction on your home.
6. CONSTRUCTION PHASE SERVICES
A home is like a family; what makes it great is what you put into it. The months during construction are often the most hectic for you, the homeowner. Timely construction projects require timely decisions. We will assist you in making fixture and finish selections that will grace your home with the distinct personality of your family. During construction our involvement typically includes conferring about design refinements and unforeseen conditions as they are encountered. An open dialogue between you, your architect, and your builder will ensure proper coordination of details and material selections. Regular progress meetings will allow all parties to address issues as they arise, solving small problems before they become larger ones. The time spent during construction is an important investment in your home.