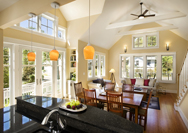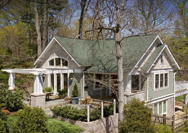 Previous client
Project completed: October 2014
"After having spoken with a number of architects recommended by friends and neighbors, we chose Bennett Frank McCarthy. What struck us about this firm compared with the others was first, their willingness early on to offer creative ideas and solutions to presented challenges (even providing sketches during our initial consultation). In addition, we appreciated their collaborative nature, their professionalism, and their directness about how much such a project would cost.
It was also important to us to preserve the original character of the house (we have a bungalow). After speaking with them and looking at some of their work, we were confident that they would develop a thoughtful plan that would satisfy our desire to keep the style consistent with the existing structure. Brian and Shawn were very good about listening to what we said we wanted in a renovation, and then translating those ideas into something that would really work for our family. Brian is good with detail, and thought to integrate a feature that we hadn't considered into other areas of the renovation, making the design more cohesive. He's also flexible (and patient), changing room dimensions by inches when requested. We're still in the beginning stages of our project, but we've been happy with our experience with BFM. We are adding a new kitchen, screened porch, and deck. An office, powder room, and side entry will replace our existing kitchen. We highly recommend Bennett Frank McCarthy."
---
Previous client
Project completed: January 2014
"We have had an excellent experience with Bennett Frank McCarthy ("BFM"). We hired the firm to design what turned into a whole house renovation project shortly after purchasing our house. The house is a 1931 center hall colonial with various additions throughout the years including a sizable 1960s addition. The scope of the project touched on many elements. It included reconfiguring interior areas to improve the flow, layout and integrity of spaces, a bump out of the kitchen to create an eating area, gutting and redesigning the master bedroom suite and bath as well numerous esthetic and structural improvements such as enlarging windows and raising ceilings to allow for light and openness. Brian McCarthy was the lead architect and has been terrific to work with. He has carefully listened to our ideas and desires throughout the process and offered many ideas and solutions.....as an old house we learned does not always bend easily to accommodate one's visions and presented a number of challenges. We were novices to home renovation on anything but the most modest level prior to this project and Brian has been there to guide us through each step from design, to bid preparation, contractor selection and negotiations, and now through the construction process. He has been a voice of calm and reason through what is inevitably a stressful and at times overwhelming experience. Our project involves many complicated elements and challenges, such as a breezeway elevation, melding contemporary and traditional Colonial styles, structural changes to accommodate major increase in sunlight/glazing for the house, and the transformation of radiator heating to geothermal heating and cooling, Through all of these and other challenges Brian McCarthy has provided invaluable design and practical advice. He also has served as an objective and fair monitor of the contractor's work, and a very valuable asset in resolving contractor errors and disputes. As said we are in the middle of the 4-5 month construction project and can start to see the visions taking shape and already know that the design ideas were right on. We also find BFM to be reasonably priced and sensitive to one's budget; needless to say a huge plus. We highly recommend BFM."
---
Previous client
Project completed: October 2014
"We found BFM through a recommendation from another client. Although we interviewed several architects based on recommendations, we selected Shawn/BFM because he seemed to understand exactly what we were trying to do. Through the whole process (initial consultation, design, contractor bids, construction) he was very patient and responsive, yet efficient. We inevitably hit some snags during our lengthy construction project, but we could always count on Shawn to help resolve issues and provide some renovation therapy when needed. His design suggestions were thoughtful and practical, and he never put his ego ahead of collaborating with us on a design that worked. We enjoyed working with him and would gladly recommend him."
---
Previous client
Project completed: September 2013
"Shawn Buehler and BFM were the perfect fit for us, and we're really grateful to have found them. Shawn understood and respected our goals and tastes for our home, and then helped us to discover the absolute best use of our space, like a sculptor revealing the masterpiece that was already hiding within a block of marble. We had lots of ideas, but Shawn turned them into a coherent design and space plan that we could actually build and be proud of, while also adding great ideas of his own.
During construction, he was patient and helpful, offering however much help we needed, without ever pressuring us towards more than that. He helped us identify a list of viable builders without ever prejudicing our decision, offered us objective advice on the bids, and then stepped in whenever we needed further help with them during construction."
---
Previous client
Project completed: July 2014
"We've been working with Brian McCarthy of Bennett Frank McCarthy and are very pleased with his services. We chose Brian because he was very detailed in his note taking when we first met with him and he understood what we were looking for in our remodel. We are finished with phase 1 and are very pleased with what he's done so far. We are looking forward to the Phase 2 and the external changes to the house.
Brian and the team at Bennett Frank McCarthy have done excellent work for us and we highly recommend them to anyone who needs a good architect. Our remodel is pretty extensive and has been handled with the utmost care to our wishes and the style we are looking for."
---
Previous client
Project completed: April 2011
"Prior to this project, Ralph Bennett had designed several improvements to our Bethesda house including new front porch. So he was a our first choice for designing a lakefront house at Lake Holiday outside of Winchester, VA.  Lakefront houses can be tricky because the rear of the house is often more elegant than the street view and Ralph did a great job responding to our requirements."
---
Previous client
Project completed: August 2013
"Bennett Frank McCarthy designed a total renovation of my 1960 colonial. I was very apprehensive undertaking this project. However, Brian and Shawn patiently walked me through each stage of the project explaining what would occur during each stage. They detailed the issues I would face with the renovation. They listened to my objectives and offered creative solutions. Thanks to the detailed construction plan there were very few issues during construction. The budget was closely monitored and right on track. Brian and Shawn assisted the builder throughout the entire construction. Most importantly, the house is fantastic."
---
Previous client
Project completed: October 2014
"Larry Frank of Bennet Frank McCarthy is a really great person to work with. His design insights are topnotch and it is hard to imagine a better "people person". My wife, kids and I enjoyed our time working with him on a very beautiful family room addition. The room is bright, airy, warm and vastly enhanced the value and attraction of our house. Friend and visitors love it, but they also compliment the nice re-design work in the main living room. An 80 year old brick colonial, it had an old fashioned living and dining room division with a wall that made the house look tiny.
With 2 growing boys we needed one big room. Larry designed the changeover, knocking out a loadbearing wall and all that entailed and all the details worked out very well.
The firm's billing was extremely reasonable. I keep trying to think of new projects to do just so I can work with them again. The hiring of the builder (of a skilled, very reasonable cost builder) went very smoothly. We've heard horror stories from friends doing remodels with unreliable builders. Larry stayed on top of all the details with the builder, who had known Larry for 20 years, which really helped. Pleasurable experience all around. BOTTOM LINE: STRONGLY RECOMMENDED."
---
Previous client
Project completed: March 2012
"When does an architect work himself out of a job? When he is serving his client's best interest, that's when. That is exactly what happened with us and Brian McCarthy, who saved us untold time and money with his sound advice. We thought we needed a costly bump out to get the space we needed for our first floor renovation. Not so, Brian said. He showed us why we had all the space we needed. He then made a very simple suggestion that added wall space, by moving a single door to the basement stairs and creating a short wall that was perfect for the built-in hutch we wanted but could not figure out where to put. And then, after meeting with our contractor and designer, he told us we were in good hands and wouldn't need him after he completed some drawings for our permits. I have, of course, looked over the firm's gorgeous portfolio; it is why we picked it. We have another project in mind for 2014, and I know who I am going to call."
---
Previous client
Project completed: September 2011
"Amazing Architects, both Larry Frank and Shawn Buehler are talented thoughtful skilled experienced and most importantly fun an easy to relate to. They got us right away.  My husband and I own an home goods store with a heavy focus on American antiques and we get a lot of requests for Architects and I proudly and loudly and confidently send everyone to BFM!"
---
Previous client
Project completed: May 2012
"We hired Bennet Frank McCarthy to do a kitchen and bathroom renovation of our 1940s colonial in Forest Hills, DC. The design was terrific, including the unusual concept of addition by subtraction (they created a usable backyard by removing a sunroom and re-imagining the rear facade to tie together disparate elements marred by a less sensitive c 1989 renovation). The project had to happen in an unreasonably short time frame to accomodate our family's move-in date (prior to start of school for our kids). They helped us choose a terrific GC and then worked collaboratively with everyone concerned to hit the date. We have been in the house for a year and couldn't be happier."
---
Previous client
Project completed: August 2013
"We hired BFM as the architects to renovate our 70 year old Cape Cod home in Silver Spring. We wanted our addition to keep with the character of the neighborhood, and wanted a more liveable floor plan. Brian McCarthy smoothly navigated us through the phases of concept, construction drawings and bid evaluations. BFMs involvement throughout the construction phase was critical as the honest broker between us and our contractor. We are so pleased with the design and the final product, and I can't count the number of neighbors who have remarked how much they like the "new" house. I would highly recommend BFM!! Brian had a wonderful vision, and it was fun to see that vision become a reality!"
---
Previous client
Project completed: April 2013
"I have been working with Bennett Frank McCarthy Architects since April of this year on my home renovation in Mahwah NJ and I can say first hand that I couldnt be happier with what Shawn and the team there have brought to the table. I initially found BFM Architects on Houzz from their Modernized Split Foyer project. I had spoken to several architects both locally here in NY & NJ as well as some west coast firms and none of them gave me the level of comfort and different approach to a renovation that Shawn Buehler and BFM gave me. From minute one my project was never about how to get me to spend more money upping my budget in order to increase fees rather it was finding out ecactly what i needed from my house and figuring out ways in which we could make minimal changes and get maximum impact from them. The design process was smooth and the constant communication Shawn provided was key throughout the process. From design to construction documents and throughout the permit processing and construction observation they have been top notch making my life much easier. If you are loooking for an architect to help you with a new home or a renovation i wouldnt hesitate to call Shawn and BFM."