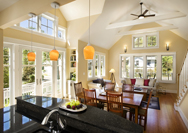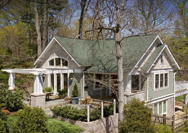 Ralph Bennett, FAIA, LEED AP
In 1977, Ralph Bennett opened the Maryland office of a Cambridge firm specializing in assisted multi-family housing, designing several large projects in Maryland and Virginia. He continued that practice until 1989, when colleagues Larry Frank and Brian McCarthy joined him to form Bennett Frank McCarthy Architects, Inc. As the firm's president, he serves commercial developers, custom residential clients and participates generally in the work of the office. Ralph is an emeritus professor of Architecture at the University of Maryland, where he continues to teach part time. He was Commissioner and Chair of the Housing Opportunities Commission of Montgomery County. He is Vice Chair of the Affordable Housing Conference of Montgomery County and President of Purple Line NOW. He became a LEED Accredited Professional in 2009, continuing an interest in sustainable design which began in Cambridge in the 1970's.
---
Laurence Frank, AIA
Larry Frank is a founding partner of Bennett Frank McCarthy Architects. Recently Larry has focused on residential projects of all types including custom homes, renovation and additions, affordable housing, special needs housing. He is the key partner in the firm's neo-traditional, transitional and contemporary Town Architect work. Many of Larry's projects have received state or local design awards.
Larry has been an adjunct studio instructor and a guest juror for student reviews at the University of Maryland School of Architecture, Planning and Preservation.
Larry is currently president of AIA Maryland and has served as president of Potomac Valley AIA. He has also served as president of his neighborhood civic association and his congregation, Kehila Chadasha. He continues to serve as treasurer of Kehila Chadasha.
---
Brian McCarthy
Brian McCarthy is a founding partner of Bennett Frank McCarthy Architects. As a principal at Bennett Frank McCarthy, Brian has guided dozens of projects from their inception through construction. His involvement ranges from schematic design, design development to construction documents and construction administration.
Brian's focus has been on residential design, ranging from single family homes to assisted living facilities for the elderly. A new custom home in Bethesda, Maryland was published in Architectural Digest in April 2001 and Brian's six assisted living projects have been recognized by a total of nine national awards.
---
Shawn Buehler, AIA
Shawn Buehler joined Bennett Frank McCarthy Architects in 1999 and became a partner in 2010. He has been actively involved in a variety of project types, including single-family additions and new homes, multi-family compact urban housing, affordable housing, elderly housing, and community planning for housing on military bases.  Shawn's primary focus is on new and existing dwelling units of all shapes and sizes, with projects ranging in scale from porch additions to new construction condominium projects.  Shawn's project involvement spans from inception to completion, including schematic design, design development, permitting & bidding assistance and construction phase services.
Shawn has served as a guest critic and has taught a graduate design studio at the University of Maryland School of Architecture, Planning and Preservation and has participated as a guest critic on two Study Abroad programs through the school.  
---
Susan Darcey
Susan Darcey joined Bennett Frank McCarthy Architects in 1999.  While Susan's projects are primarily single-family residential additions, she has also participated in the firm's seniors' housing projects and group homes for those with special needs.  Susan has served on the Kentlands Historical Trust for nine years.
---
Ellen Mitchell
Ellen joined Bennett Frank McCarthy Architects in 2017. She brings 15 years of experience in residential design, previously working at architecture and interior design firms in both Washington DC and New York City. Her primary focus is single-family home design. Ellen received a Bachelor of Architecture from the University of Notre Dame. 
---
Lynn Khuu, LEED AP
Lynn Khuu joined Bennett Frank McCarthy Architects in 2008. Her interest in sustainable design has influenced her involvement in a variety of activities to promote environmentally conscious practices and motivated her to become LEED accredited.
Lynn recently participated in the 2011 Solar Decathlon, an international competition sponsored by the U.S. Department of Energy that challenges collegiate teams to design, build, and operate solar powered homes. She worked alongside the University of Maryland team to design and construct WaterShed, a house inspired by the natural ecosystem. WaterShed placed first in the competition and has earned local and statewide recognition including a proclamation from the Governor and AIA Design Awards.
---
Yoseph Tarakegne
Yoseph earned a Bachelors degree in Architecture from Addis Ababa University and has experience on variety of design cultures and techniques. His first training and career in the US was on Land development design technology earning him opportunity to work with landscape designers and utility engineers. He joined Bennett Frank McCarthy in 2018.
---
Kyle Painter
Kyle joined Bennett Frank McCarthy In 2016 after graduating from the University of Maryland with a B.S. in Architecture. During the summer of 2016 he had the opportunity to research and develop a schematic design of a home constructed primarily out of shipping containers for a fabricator at the University of Maryland. This experience, in addition to his volunteer work with habitat for humanity, has propelled his interest towards affordable housing and residential architecture.
---
Karen Kim
Karen Kim joined Bennett Frank McCarthy Architects in 2018 after graduating from the University of Maryland with Master in Architecture. Since her childhood, she was influenced by her father's tile contracting business and became fascinated with the design and construction of residential architecture and its connection to psychological well-being of people.
---
Sean Banks
Sean Banks joined Bennett Frank McCarthy in 2019 after graduating from Howard University with a Bachelor of Architecture. During her time at Howard, she developed an interest in residential architecture, interior design and photography. Sean has a genuine passion for service to mankind and with her educational foundation, she wishes to express her passion to serve through Architecture.
---
Prakruti Hoskere
Prakruti Hoskere joined Bennett Frank McCarthy Architects in 2019. She brings four years of experience in multi-family residential housing projects in urban-centric areas, previously working at architecture firms in Baltimore, Maryland and in India. She has a passion for designing spaces rooted in their context and that can adapt and grow with their users in time. Prakruti earned her Master of Architecture degree from the University of Maryland, College Park, with her thesis winning national recognition at a design showcase in AIA DC in 2017.