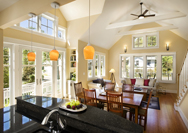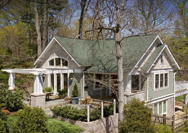 Bennett Frank McCarthy Architects is committed to promoting responsible, sustainable design and construction practices. The changing regulatory environment together with emerging information about climate change makes sustainability a moving objective. While sustainable materials and technologies continue to come to the market, there are a variety of time-tested design practices that can make your project more responsible with little impact on the project cost or form. At the same time, new technologies can be very helpful, especially when combined with public incentives. We will help you determine which of the following strategies are suitable for your project:
1. BUILDING SIZE, SHAPE AND ORIENTATION
The easiest way to make your project more sustainable is to heat and cool less space.  Simply put, bigger isn't always better.  We can help you to determine a reasonable program of sensible room sizes and make the most of the space you have through thoughtful design.  We will consider daylighting and the opportunities for optimum exposures and free energy when laying out spaces and building orientation, window sizes and locations, eave depths and shading devices.
2. THERMAL ENVELOPE
A well-designed thermal envelope will have a drastic impact on the amount of energy required to heat and cool your project, as well as the long-term performance of the building materials and systems.  This includes thoughtful selection and location of insulation, ventilation, doors and windows, and vapor barriers.  A thoughtfully-detailed envelope will control moisture, prevent mold and restrict air infiltration, maintaining a healthy environment while saving energy and meeting evolving regulations.
3. MECHANICAL SYSTEMS
There are many choices for heating and cooling your building.  We will help you identify the best fit for your project, considering up-front and operational costs, tax incentives, equipment efficiency, personal preferences and comforts, existing equipment and utilities available for use or reuse.  We will endeavor to specify and size mechanical equipment correctly to maximize both performance, efficiency, reliability and convenience.
4. MATERIALS AND FIXTURE SELECTIONS
You can make your project more environmentally friendly by considering locally available, renewable building products and materials.  Sustainable options include low-flow plumbing fixtures, energy-efficient appliances and light fixtures, locally-sourced materials, low-maintenance finish materials, responsible construction and waste management practices and much more.  We will review these options with you to help you determine the best fit for your project.
5. INDOOR AIR QUALITY
Indoor air quality becomes an increasingly important part of the sustainable design conversation as we find ways to make the thermal envelope tighter and tighter.  We can help identify choices to promote a clean and healthy living environment for you and your family, providing a healthy and energy efficient exchange of indoor air, and selecting low- or no-VOC materials with minimal on-site finishing requirements.
6. EMERGING TECHNOLOGIES AND METHODS
We continue to educate ourselves on emerging practices and products to help you reach the sustainability goals for your project.  Some examples include solar and tankless water heaters, SIPS panelized construction, rainwater harvesting systems, geo-thermal heating and cooling systems, photo-voltaic panels, daylighting and much more.  Several members of our firm are LEED-accredited design professionals.