TV Guide: Designing to accommodate your television
Clients often give me an odd look when I ask them if they are TV watchers.  It's an important question when designing a family room; some of our clients appear embarrassed or even apologetic about the desire to have a TV in their home and others consider their television the center of family life.  Regardless of where you fall on this spectrum, if you have a television and plan to watch it even sporadically, it's worth studying how best to accommodate it in your home.
If this is your family, this blog post may be for you.
If your home is large enough to accommodate multiple gathering spaces, the solution is often as easy as selecting which rooms will have a TV and which ones won't.  Alternatively, if your home features one primary family gathering space, you may find yourself trying to find a way to accommodate a TV discreetly.  This presents a handful of challenges and opportunities.
In many cases a larger family room already has a focal point, such as a grand fireplace.  As we will discuss below, TVs and fireplaces are like the odd couple of residential design; no matter how badly they get along with one another, they always seem to end up next to one another, competing for your attention.  In addition to the TV and the fireplace, a large family room often has one or more walls of windows and in more recent trends, a large opening facing the kitchen.  Suddenly there are 4 focal points in one room.  Short of having your furniture on a swivel, this presents a problem.
                              Too many focal points can give your room an identity crisis.  Where do you point your furniture?
Another challenge is figuring out what to do with the TV when it is off.  As much as you want to aim attention at the television when gathering a crowd for a movie or the big game, if it is located in your primary family room you are likely to want to divert attention away from it when it is off.  Otherwise a large blank screen will be starring at your family and friends.
Turning this TV off won't make it go away.  Its owners are unapologetic about its prominence in this room. 
The design process is best started by asking four questions:
1. How large of a sitting group do you want to accommodate?  3 people?  5?  8?  This will dictate the combination of seating furniture you will need, which will in turn dictate the shape and size of the room.
                                               In the ideal situation, the furniture will form a semicircle, with the TV on the center of the long wall.  Placing the TV on the short wall of a large room often presents a challenge for viewers.
2. How many focal points will the room have?  Is there a fireplace?  Large group of windows?  A beautiful view?  This is where things get tricky.  Can multiple focal points happen close to one another so as to keep the furniture aimed in one direction?  If not, which element is going to be the center of attention most often?  A common solution is to consolidate focal points by locating the TV above the fireplace.  This solves the furniture layout question, but can lead to other issues.  What are the sight lines?  Will viewers always be staring upward? Managing the height of the fireplace will be critical to the success of this approach.
   In this space the TV and the fireplace share attention, though the TV is higher than some might prefer.
3. How important is the television?  If you are just a casual watcher, you may decide that the TV can take a backseat to a nice view, a piece of artwork, or even go in the basement.  If Sunday is "Game Day" in your house, maybe introducing a competing focal point in your family room is a bad idea.  This is also an important question when considering the extent to which TV should dictate the quantity and location of windows.  Daylight is another natural enemy of the television.  Next to the TV, it can be distracting, opposite the TV it can cause glare.  If TV watching is important to you, these considerations should factor into the design of the space.  If TV watching is secondary, the room can take shape with fewer limitations on focal points and windows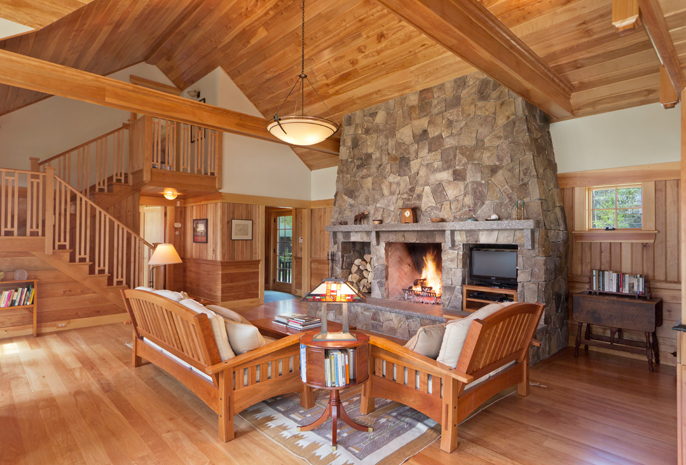 While the owners of this lake cabin wanted the ability to watch TV in their great room, the television clearly takes a backseat to the grand fireplace, and the panoramic views of the lake and mountains on the opposite wall.
4. Finally, what is the ideal character of the room?  Does that character work with a TV on?  Does it work with a TV off?  If the room is more formal, you may wish to hide the big screen so it doesn't take over when you don't want it to.  If the room is less formal, perhaps the television can stick around, even when it's off.
This fireplace design accommodates a television when the cabinet is opened, and conceals it when closed.  The paneled design reads more as a fireplace surround than a media cabinet when the doors are closed.
This large built in cabinet was designed to accommodate a television in open view, while providing enough visual distraction to downplay the blank screen when the TV is off.
The TV doesn't have to rule your life.  But you should find ways to make it compatible with the character of your home, especially if you find that it is on most of the time.  Start with these questions and you will strike the right balance for your home.
– Shawn Buehler, Principal